4. There were information that Coinbase is still tracking your coins even if it is already withdrawn from the exchange. The intention is to know whether you use it for gambling sites and illegal transactions. By then, Coinbase will be blocking you from doing so the next time. As member of the Blockchain Alliance, this is reasonable for Coinbase to protect digital currency on any illegal activity.
</li>
5. There were speculations on Bitcoin community that Coinbase has been invloved in the debate of the current block size, and do some patents using the inventions called btc tip buttons or bitcoins exchange. On the other hand, this move might not affect that much on purchasing and selling Bitcoins but you can research on your own how Bitcoin politics affects the Bitcoin industry.
</ul>
The Statistics and Figures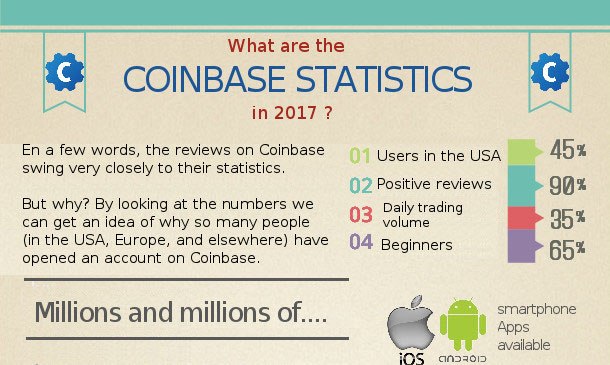 To give you the information on how huge is this Coinbase platform, we will be visiting its statistics in 2017. Monthly visit of their websites is enormous and by just February of 2017, they have notice that there is a 20% increase on the traffic each month.
There were more or less 11.5 million visits per month in figure. You might have the idea in mind that this is because of current bull trading place, but no, this is the only an exchange company that has rapid burst on their traffic since then recently. The breakdown of visits are the following :
United States - 45%
Brazil - 9%
United Kingdom - 4%
Upon writing this review, as ofr March 2017, their GDAX volume is up to 15% of the overall volume of Bitcoin market.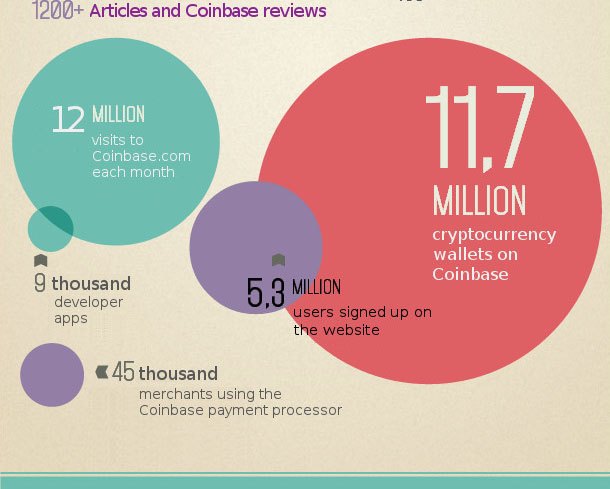 It is safe to say that Coinbase could be a great competitor with Blockchain which is now boasting the 12 million digital currency wallets on their customers. They have about 45,000 merchants in total who are using the platform as payment processor and figuratively 9,000 applications who uses their API.
In conclusion, even if Coinbase is one of the youngest player in the market nowadays, respect is what they get. From making easy UI to security toughness they got what it takes to be a long term reliable exchange company.